Until the late 19th Century, most brides wore their best dress and the colour was just a matter of choice.
Western brides often chose from blue, yellow, black, brown or grey.
A green dress was thought to be unlucky unless the bride was Irish. To say that a woman had a 'green gown' implied that she had loose morals, as the dress might be stained green due to rolling around in grassy fields!
The 'white' tradition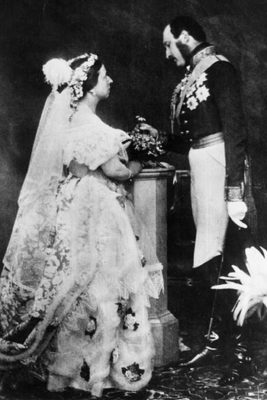 Most brides today marry in white which symbolises purity and virginity.
This tradition was started by the rich classes in the 16th Century while the less wealthy continued the practice of wearing their best frock and then re-using it afterwards.
The 'white' tradition was given a boost by Queen Victoria who chose to marry in white instead of silver which was the traditional colour of Royal brides.
Royal brides before Victoria did not typically wear white, instead choosing heavy brocaded gowns embroidered with white and silver thread, with red being a particularly popular colour in Western Europe.
One notable exception was Mary, Queen of Scots, who wore a white wedding gown in 1559 when she married her first husband, Francis Dauphin of France.
Godey's Lady's Book of 1849 stated, "Custom has decided, from the earliest ages, that white is the most fitting hue, whatever may be the material. It is an emblem of the purity and innocence of girlhood, and the unsullied heart she now yields to the chosen one."
Because of the limitations of laundering techniques before the later part of the 20th century, white dresses provided an opportunity for conspicuous consumption. They were favoured primarily as a way to show the world that the bride's family was so wealthy and so firmly part of the leisure class that the bride would choose an elaborate dress that could be ruined by any sort of work or spill.
With increased prosperity in the 20th century, the tradition also grew to include the practice of wearing the dress only once. Even Queen Victoria had her famous lace wedding dress re-styled for later use.
A black wedding dress?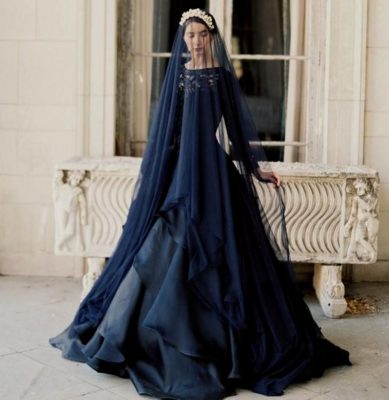 Some cultures, however had a tradition of black wedding dresses.
In Spain, a black wedding dress and mantilla were traditional and symbolized a bride's devotion to her husband until death.
The Zhou Dynasty (1045-221 BC) was also symbolized by black and red, and brides and grooms wore black wedding robes with a red trim.
Modern brides today may have a number of reasons for choosing a black wedding dress, including:
Non-traditional: Black gowns are out of the norm, so a bride might wear one to represent her unique sense of style
Contemporary edge: Today wedding dresses may be created in modern styles in black or with black accents. Choosing one can showcase the bride's love of contemporary style
Personal preference: Brides have a lot of other reasons for choosing a gown – it might be because it's a second wedding, because it represents class and sophistication, or just because they prefer the look
Read more at https://weddings.lovetoknow.com/wiki/Black_Wedding_Dresses
Other colours for a wedding dress?
Here's a traditional rhyme offering some rather dubious advice on a choosing a colour for your wedding dress:
Married in White, you have chosen right,
Married in Blue, your love will always be true,
Married in Pearl, you will live in a whirl,
Married in Brown, you will live in town,
Married in Red, you will wish yourself dead,
Married in Yellow, ashamed of your fellow,
Married in Green, ashamed to be seen,
Married in Pink, your spirit will sink,
Married in Grey, you will go far away,
Married in Black, you will wish yourself back.
Big Business Tip
Use the content of this article, plus your own wider research, to get your name known to promote your business and what you have to offer.
Write articles for your blog, social media posts, and your local newspaper or free glossy magazine. Send it to your local radio station and make sure you know your stuff if they invite you to be interviewed live!
Create a talk or presentation all about the use of colour in traditional clothing styles. Weddings are just a starter for ten.
The history of colourful wedding dresses will fascinate you, your existing clients, and those prospects who are considering working with you.